Inspection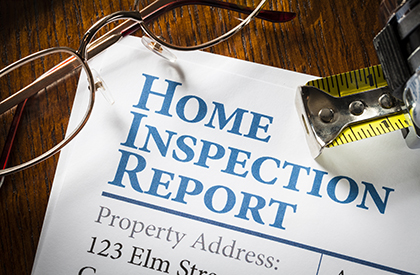 Those buying a home should always have a licensed home inspector inspect the property. For most people, buying a home represents the single largest investment they will ever make. It's important to learn as much as possible about the house before you purchase the home to avoid any unanticipated cost, and surprises. A home inspection involves a visual examination of the physical structure and systems of a house, from the roof to the foundation. A home inspection can identify defects, structural problems and repairs that should be made on the house. After the inspection, the buyer will know more about the house helping with the decision process. Also, an inspection report can help in the negotiation process. For example, making the purchase of the home contingent on the repairs being made prior to closing, or requesting a decrease of the purchase price to offset the cost of repairs that need to be made.
Generally, a home inspection report is very thorough and includes an inspection and evaluation of the condition of the home's heating system; central air conditioning system, plumbing and electrical systems; roof, attic and visible insulation; walls, ceilings, floors, windows and doors; the foundation, basement and structural components. The American Society of Home Inspectors (ASHI) publishes a Standards of Practice and Code of Ethics that outlines what you should expect to be covered in your home inspection report.
Typically, a home inspector is contacted immediately after the contract or purchase agreement has been signed. Before you sign, be sure there is an inspection clause in the sales contract, making your final purchase obligation contingent on the findings of a professional home inspection. This clause should specify the terms and conditions to which both the buyer and seller are obligated.
Do I have to be there?
While it's not required that you be present for the inspection, it is highly recommended. You will be able to observe the inspector and ask questions as you learn about the condition of the home and how to maintain it.
What if the report reveals problems?
No house is perfect. If the inspector identifies problems, it doesn't mean you should or shouldn't buy the house, only that you will know in advance what to expect. If your budget is tight, or if you don't want to become involved in future repair work, this information will be important to you. If major problems are found, a seller may agree to make repairs.
If the house proves to be in good condition, did I really need an inspection?
Definitely. Now you can complete your home purchase with confidence. You'll have learned many things about your new home from the inspector's written report, and will have that information for future reference.