Appraisal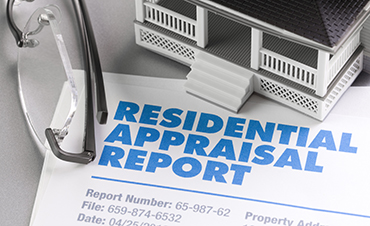 An appraisal is an important part of the home purchase process. The appraisal is generally ordered by the Bank to determine the value of the property the buyer is seeking a mortgage on. The appraisal establishes a market value for the property and provides the lender with an assurance that the property will sell for at least the amount of money they are lending. The bank lends based on the appraisal of the property, not the purchase price. A buyer who is purchasing the home with his or her own money, and not borrowing any money, may also order an appraisal to make sure that the house is not being overpaid for.
A residential Appraisal Report will provide an evaluation of the overall real estate market in the area where the home is located. It will contain detailed information about the subject property along with a side by side comparison of similar properties in the area. It will also contain information about such things that the appraiser feels may be detrimental to the value of the property, such as a defective foundation or poor access to the property. The appraisal will also provide an estimate of the average sales time of the property.
Note, an appraisal is different from a comparative market analysis or CMA typically provided by a realtor. A comparative market analysis is based on sales data from the multiple listing service. They are used by realtors to help sellers establish realistic asking prices and for buyers to understand what similar properties have sold for.